Block I Apollo Guidance Computer (AGC):
How to build one in your basement

Material developed and provided by John Pultorak, who is kind enough to put these files into the public domain with no restrictions on their use.

Abstract

This report describes my successful project to build a working reproduction of the 1964 prototype for the Block I Apollo Guidance Computer. The AGC is the flight computer for the Apollo moon landings, with one unit in the command module and one in the LEM.

I built it in my basement. It took me 4 years.

If you like, you can build one too. It will take you less time, and yours will be better than mine.

I documented my project in 9 separate files:

Part 1 - Overview [8.1 MB]: Introduces the project.
Part 2 - CTL Module [9.9 MB]: Design and construction of the control module.
Part 3 - PROC Module [6.7 MB]: Design and construction of the processing (CPU) module.
Part 4 - MEM Module [6.8 MB]: Design and construction of the memory module.
Part 5 - IO Module [7.0 MB]: Design and construction of the diskplay/keyboard (DSKY) module.
Part 6 - Assembler [0.5 MB]: A cross-assembler for AGC software development.
Part 7 - C++ Simulator [5.2 MB]: A low-level simulator that runs assembled AGC code.
Part 8 - Flight Software [2.8 MB]: My translation of portions of the COLOSSUS 249 flight software.
Part 9 - Test & Checkout [0.9 MB]: A suite of test programs in AGC assembly language.

Why build an AGC?

Early computers are interesting. Because they're simple, you can (if you like) actually understand the entire computer, from hardware to software.

The AGC is the most interesting early computer because: it flew the first men to the moon and has interesting architectural features.
Donna Polehn has created an GUI IDE (I think, Windows only) based on the Pultorak Simulator and assembler, which you can find at
https://github.com/donnaware/AGC
. In order to build it, you need C++Builder 6. I've not tried it, since I don't personally have C++Builder 6 and don't normally run Windows, but I expect it's interesting.
Donna tells us also that she has made a functional Block I using the Terasic DE0 FPGA development board, as well as a custom FPGA board. Those are available at the link listed above.
---
Mike Stewart's Block II AGC Project

You can find all the data on Mike's project at these two GitHub sites:
No, wait, is that what I wanted to say?
I jest, of course, but it may not be so far off. What Mike has done, in his quest to perfect his simulation, has been unique. He has used his hardware simulator to do detailed comparisons against our own software AGC simulator,
yaAGC
, and to
repair
yaAGC when he has found it to be broken in some way, along the way becoming a top contributor to the Virtual AGC project. The problems he has found have certainly been subtle, but real. One benefit to Virtual AGC is that bugs preventing yaAGC's use for landing the NASSP/Orbiter LM on the Moon have been fixed, and I got a nice note a few weeks ago (say, in late August of 2016) saying that they had finally landed on the Moon with any program alarms or other problems! But there has apparently been some help flowing in the opposite direction as well, since Mike tells me that Jim Lawton's AGC wire-lister from
our own GitHub repository
was essential to his work. Go figure! I didn't even know it was there. Good job, Jim!
As part of this, Mike has also been instrumental in acquiring AURORA, a very early AGC LM program, because it was the
last
AGC program to contain a full suite of test-suite software, which should help him (and us!) to locate yet other subtle bugs in the simulations, if bugs there be.
Mike's project also stands out because he has used open-source tools, so if you have the time, the expertise, and the will, you can reuse the material from his project without having to acquire proprietary tools to do so.
So while I haven't any fancy exclusive-to-VirtualAGC graphics of Mike's work to present to you here, I can't help but recommend it highly to you!
---
Dario Kubler's Apollo 16 AGC/DSKY Simulation Project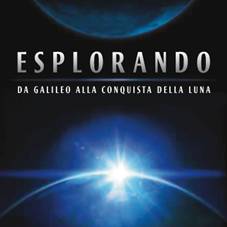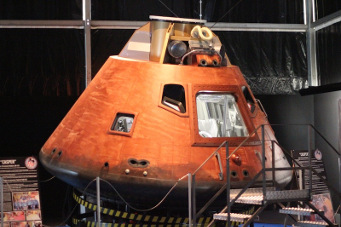 Dario was part of a team (largely people from the
Fondazione Osservatorio Astronomico M13
) that created a 1:1 scale mockup of the Apollo 16 Command Module ("Casper") for 2012 exhibition called Esplorando, in Varese, Italy, near Milan. Dario's part of the task was to create a working DSKY, which would be interfaced via bluetooth to a PC running the Artemis AGC program in our yaAGC AGC simulator software. Of course, yaAGC has no direct bluetooth support, but Dario wrote a C++ program that interfaced between yaAGC and bluetooth.
Apparently, the exhibition went very well. Charlie Duke, the LMP for Apollo 16, was one of the visitors. I'm told that he entered the capsule, played with the AGC/DSKY combo, said that it was very realistic, and passed his compliments to us. So ... thanks, Dario!
Actually, there's a YouTube video, with Charlie Duke, of the Casper mockup's unveiling ceremony:
After Esplorando, the capsule was moved to the flight museum located in the Malpensa International Airport, in Milan.
Here's a YouTube link to a short video of Dario's AGC/DSKY combo in operation:
Since then, Dario has managed to port yaAGC into an embedded system, based on the PIC32-MZ (a 32-bit MIPS-based MCU), with 2MB of flash memory and 512KB of RAM, using the XC32 gcc-based compiler. Dario himself works at Microchip (the manufacturer) himself, so that seems like a natural progression.