Chapter X
Official Reports Other Ships
1. DESTROYERS
Bagley was at the Navy Yard and witnessed the action over Hickam Field, believed at first to be Army bombers. At about 0758 Bagley saw torpedo planes attack Oklahoma from a height of only 50 or 60 feet. The ship went to general quarters, opened fire at once with forward machine guns, and saw one plane drop and its torpedo land in a mud bank ahead of Bagley. Bagley shot down, or saw shot down, several Japanese torpedo planes. Although limited by Navy Yard work Bagley was able to get underway at 0940 and patrolled at sea near the entrance.
Blue saw Utah torpedoed at 0800, and sounded General Quarters. Although undergoing buoy upkeep, she prepared to get underway. At 0805 she opened fire with 50 caliber machine guns, and about two minutes later with 5-inch guns. The ship got underway at 0847 and continued firing at enemy planes while steaming out of the harbor. Blue passed the channel entrance buoys at 0910 and proceeded to the patrol station of sector three. Here Blue claimed one midget submarine, and possibly two more, due to depth charge attacks, Oil slick and air bubbles were in evidence.
It should be related that the Acting Commanding Officer of Blue was Ensign Nathan F. Asher, only two years out of the Naval Academy. The officers aboard were in large part Reserve Officers. The ship got underway promptly, opened fire with its machine guns at once, and got the 5-inch anti-aircraft battery firing within a few minutes. They shot down at least one Japanese plane, probably sank one enemy submarine, and acted as screen for fleet cruisers searching for the Japanese Fleet. When the gun captain of number 1 gun went to repair the ammunition hoist of number 4 gun he got on his knees and prayed, "Oh, Lord! Oh, Lord! Make this ammunition hoist work just this once." While he was praying with tears coming from his eyes, a tall colored man stationed in the handling room looked down and said, "Why, Smith, you got the oil turned off."
Helm was enroute to the deperming area in the West Loch at 0726. Her
--161--
crew saw the Japanese planes attacking Ford Island at 0759, before going to General Quarters. Although ammunition was at hand the forward machine guns did not open fire on the torpedo planes that passed over the ship because these guns did not bear and were in a state of preservation. However, fire was opened at 0805 by the after machine guns and were followed shortly by the forward guns. This was followed at 0807 by firing from the 5-inch battery. A Japanese torpedo plane was observed to catch on fire and crash-land near Hickam Field.
Helm changed its destination and put out to sea, ultimately to act as a screen for cruisers. In the meantime she sighted a periscope near the entrance. The submarine appeared to be fast on a reef but it escaped and submerged. A torpedo passed close to Helm and its plates were sprung due to near misses of light bombs and constant strafing.
--162--
Jarvis was at the Navy Yard and witnessed the torpedo planes attacking the battleships at 0759 and immediately went to General Quarters. Promptly the anti-aircraft batteries were manned and the machine guns opened fire at 0804. At 0805 the number 3 five-inch gun joined the action, and all guns were in use by 0815.
Shaw was in Floating Drydock Number Two and eventually came to grief. The vessel saw the planes attack Ford Island but did not open fire because she was in an overhaul status with ammunition stowed below. At 0840 Shaw and the floating drydock were heavily bombed by the planes which attacked Nevada which was then near. As a result the floating drydock was sunk and Shaw heavily damaged due to a magazine explosion forward. The magazine explosion on Shaw is shown on page 162.
There were 35 or 40 destroyer types in Pearl Harbor at the time of the Japanese onslaught. Except for three, none suffered serious damage. The great majority showed the mettle which characterized the fleet. Those that did not get underway to patrol for enemy submarines were on the job with their anti-aircraft batteries, were rescuing men from the water and oil, or were sent to the battleships to help fight the fires which were raging. A number were under overhaul at the Navy Yard or alongside repair ships or tenders, and were therefore in an unalert state as far as concerns guns, ammunition, or propulsion. Their efficiency in patrol work is attested by the fact that not a single ship of the American Navy was successfully attacked by the Japanese submarines that lay in wait off the entrance channel or in operating areas.
Space is not available to describe the various destroyers which rendered major service in combating the enemy or patrolling for enemy submarines, but mention should be made of Wasmuth, Tucker, Tracy, Breese, Dewey, Henley, Preble, Sumner, Reid, Hull, Gamble, Cummings, Thornton, Ramsay, Mugford, Conyngham, Sicard, Ralph Talbot, and others.
Let it be recorded that both mine divisions acquitted themselves well. They were undergoing overhaul at the Navy Yard and were without guns or ammunition. However, they went to General Quarters promptly and were sent to assist nearby ships in manning anti-aircraft batteries, in supplying ammunition, and in fighting fires on Pennsylvania and California. Machine guns were reassembled and remounted, and with ammunition obtained from New Orleans and San Francisco were used against the enemy in the late attacks.
--163--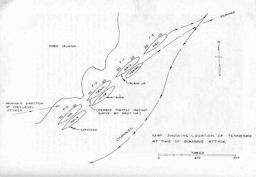 Map showing location of Tennesee at time of bombing attack
--164--
2. BATTLESHIPS
As previously explained, Pennsylvania was in Drydock Number One together with the destroyers Cassin and Downes which were forward and inboard. Cassin and Pennsylvania observed enemy planes attacking Ford Island and Hickam Field. When enemy planes attacked California, General Quarters was sounded about 0757 or shortly thereafter.
Pennsylvania, although in drydock, opened fire on the Japanese planes at 0802. During the second attack Downes was hit and set on fire; the drydock service lines were hit and water pressure was interrupted. One bomb passed through Pennsylvania's boat deck on the starboard side and put several 5-inch guns out of commission. At 0920 the drydock was flooded to put out raging fires on Downes. The result was that Cassin rolled over on Downes. Both destroyers were severely punctured by fragments from bomb hits on the drydock, and warheads from Cassin exploded and fell on Pennsylvania's bow.
Tennessee was kept busy fighting fires on the oily water as a result of fires on Arizona and West Virginia. The after part of the ship was gutted by fires. In addition, Tennessee was hit twice by bombs, once on the face of turret II and again on the top of turret III. Although capable of getting underway, the ship was held fast due to the pinching of the hull between West Virginia and the forward quay. The latter had to be blown up with explosives before Tennessee could be extricated.
Maryland was moored inboard of Oklahoma and was the least damaged of the battleships. She received one bomb hit on the forecastle, but was moved to the Navy Yard as early as 11 December and was ready for duty a week later.
The twenty-five observation planes of the battleships were hard hit. Only one was fit to fly immediately while nine more were repaired in a few hours. Four required major repairs, and eleven of the planes were stricken as complete wrecks. Their parts were used in repairing others.
3. CRUISERS
There were eight modern cruisers in Pearl Harbor, most of them at the Navy Yard, at the time of the Japanese attack. Many of the other Pacific cruisers were at sea with the various task forces. Only three were damaged: Helena, Honolulu, and Raleigh.
--165--


USN NR&L (MOD) 39739
Damage to bow of Pennsylvania in Drydock Number One

Phoenix saw planes proceeding to Ford Island at 0755. Honolulu, from the Navy Yard at 0755 saw planes attacking Hickam Field and shortly thereafter witnessed a wave of torpedo planes moving toward the battleship line. She immediately sounded General Quarters and passed the word "Enemy Air Raid." Machine guns fired at the torpedo planes and the 5-inch went into action immediately. Honolulu fired about 2000 rounds of 30 caliber, 4500 of 50 caliber, and 250 of 3-inch. The ship kept firing until the attacks subsided. This ship saw two of the torpedo planes destroyed.
Phoenix got underway at 1010, temporarily returned to its moorage as ordered, but eventually joined other cruisers at sea. The ship fired eighty rounds of 5-inch between 0900 and 0915 on planes dive-bombing Ford Island and the battleships.
Honolulu suffered one near-miss which caused considerable damage and leakage hard to control. One near-miss bomb passed through the Navy Yard concrete pier and exploded near the hull of the ship.
--166--
Helena was moored to 10-10 dock and observed planes over Ford Island at 0757. A signalman, with previous duty on the Asiatic Station, identified the planes immediately and arranged for the general alarm to be sounded and service ammunition to be broken out. At 0801 Helena opened fire, which caused the Japanese aviators to disperse and shy away from Helena. A torpedo exploded against the port engine room after passing under Oglala which was tied up alongside and outboard. The hit on Helena caused serious flooding of machinery spaces. For temporary repairs before departing for the West Coast, the ship was put in the still uncompleted Drydock Number Two, the first vessel to use this drydock.
Raleigh was tied up at the quay customarily used by an aircraft carrier. At 0800 she opened fire with her anti-aircraft battery consisting of 50 caliber, 1.1-inch, and 3-inch guns. She was struck by a torpedo about 0800 and immediately listed to port. The forward engine room and forward fire rooms were completely flooded. All weights on the port side were jettisoned to prevent capsizing. The ship sent help to Utah, and the ship's doctor to Solace, a hospital ship.
New Orleans sounded General Quarters at 0757, immediately after seeing enemy planes dive-bombing Ford Island. The ship was tied up at the Navy Yard and manned 1.1-inch battery and machine guns aft in time to fire at the Japanese planes launching torpedoes against the battleships. In the meantime, the Japanese were fired at with rifles and pistols from the fantail. By 0810 all guns except the 8-inch were in use and caused the Japanese aviators to turn away or to drop their bombs erratically. The concentrated fire from New Orleans and Honolulu had a salutary effect, causing the bombs to fall into the water between the ships and Rigel.
Saint Louis was at the Navy Yard but lost no time in going to General Quarters and opening fire with the 50 caliber and 1.1-inch batteries. The 5-inch guns and the two boilers which were out of commission because of Navy Yard work were soon put into operating condition. Saint Louis got underway at 0931 with boiler power for twenty-nine knots. She cleared the entrance at twenty-five knots and zigzagged after torpedoes were fired at her. She joined other cruisers and destroyers in pursuit of the Japanese forces.
The Commanding Officer, Captain G. S. Rood, gave high praise for the performance of duty of all officers and men attached to the vessel. All hands responded promptly without confusion or delay. He especially commended Lieutenant Charles A. Curtze, on the Staff of Commander Cruisers,
--167--
who was a visitor on board at the time General Quarters was sounded. He proceeded at once to Central Station and performed the duties of First Lieutenant and Damage Control Officer.
4. MISCELLANEOUS AUXILIARY SHIPS
The auxiliary ships acquitted themselves with distinction. Avocet was moored near Ford Island and observed the bombing of hangars and planes at the Naval Air Station. That small seaplane tender fired forty-four rounds of 3-inch and 1750 rounds of 30 caliber. The torpedo planes which attacked California were fired upon by Avocet.
We should not forget the seaplane tender Curtiss. She witnessed the bombing of the Naval Air Station and the torpedoing of Utah and Raleigh. Immediately the vessel went to General Quarters. She shot down an enemy plane about 1000 yards off the port bow and saw one plane crash in a sugar cane field. The vessel was ready to get underway when at 0835 it sighted a midget submarine periscope on the starboard quarter about 700 yards away. She opened fire at once and scored two hits on the conning tower. The submarine was later depth charged by Monaghan and was subsequently recovered. Its picture appears on page 169. At 0905 an enemy plane was hit by Curtiss and crashed into the starboard crane. A bomb hit the boat deck and detonated on the main deck, its fragments destroying much gear. At the same time one bomb fell short and another struck the mooring buoy.
Nor should we forget the indomitable repair ship Vestal which was moored alongside the ill-fated Arizona. She sounded General Quarters at 0755 and shortly thereafter opened fire with 5-inch, 3-inch, and 30 caliber. A blast from Arizona caused numerous casualties on Vestal. It blew overboard the Captain who returned to his ship by swimming. He was Commander Cassin Young, who was later killed aboard the cruiser San Francisco at Guadalcanal. Vestal had been hit by two bombs, had a list of over six degrees, and was down by the stern. When burning oil from Arizona jeopardized the ship by fire, Vestal got underway at 0845 and grounded at 0950 to prevent further list or loss of buoyancy.
Swan, another small seaplane tender, was in the Marine Railway undergoing boiler repairs when at 0755 it observed the enemy assault on Ford Island. It immediately went to General Quarters and opened fire at 0803 with its 3-inch guns.
--168--


USN NR&L (MOD) 26697
Stern view of Japanese two-man submarine. Note "washboard" effect caused by depth charges.
Rigel, a repair ship was tied up at the Navy Yard, saw Ford Island attacked by ten dive-bombers at 0758. At 0800 it was bombed and strafed by dive-bombers from a low altitude. The ship had no armament and was therefore unable to take action against the Japanese planes although seeing them attack the battleships with torpedoes. About 100 of her men were sent to West Virginia to help fight fires. The blasts from near-misses threw about 100 men into the oily water, and caused about 150 small fragment holes in the port quarter. The men were rescued but one whaleboat was hit by a bomb and disintegrated.
The submarine rescue ship Widgeon rendered first aid to whatever ship seemed in need. The ship received from Commander Battle Force a letter of commendation for the work of its intrepid divers and those of the Submarine Base for their work on Nevada and California.
Various other auxiliary vessels witnessed the early Japanese forays and took offensive action. Among these were Pelias, Antares, Whitney, Dobbin, Ramapo, Castor, and the tugs Vireo, Bobolink, and Rail.
5. SUBMARINES
There were four United States submarines present at the time of the Japanese attack, none of which were damaged.
--169--
Tautog at once saw enemy planes approach and drop bombs over Ford Island. She also saw the torpedo planes approach the battleships. The fourth plane in line was shot down by either Tautog or Sumner.
Dolphin at 0800 used rifles and machine guns against Japanese planes. Another submarine which should be mentioned is Cachalot which was at the Navy Yard at the time. It was in position to observe the attack on Ford Island and the torpedoing of the battleships. Bereft of military equipment due to Navy Yard overhaul it rendered assistance to stricken ships, especially Oglala.
6. OGLALA
Special mention should be made of the minelayer Oglala because she was the flagship of the minecraft. The Commander of Minecraft, Rear Admiral William R. Furlong, was walking the deck of Oglala and was a valuable witness before the Roberts Commission. He saw the bombs dropped on the Naval Air Station and saw the torpedo planes start their torpedoes toward the defenseless battleships across the water from him. As soon as he heard


80-G-32537
Starboard side of USS Oglala, looking aft from Ten-Ten Dock.
--170--
the explosions he detected that they were enemy planes although up to that time he gave but little attention to planes buzzing about even on a Sunday. He called out: "Japanese. Man your stations." The word was immediately passed to call all men to General Quarters. All watertight doors were closed, guns were manned, and all men went to their stations.
Oglala capsized eventually, about one and one-half hours after suffering a near-miss from the torpedo which struck Helena. Oglala set up a first aid station on the Navy Yard dock, and mounted guns on the dock. Men from West Virginia who were wounded were landed there and received first aid treatment from Oglala's crew.
--171--
Contents
Previous Chapter (9) * Next Chapter (11)