A little trip.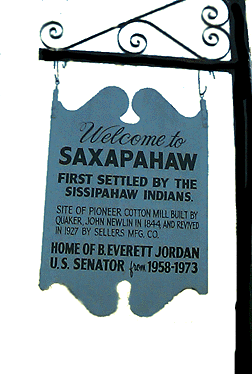 Alamance County may have its county seat in Graham, but its most colourful town name has to be that of Saxapahaw. Resting on the banks of the Haw River (which is said to have carried its name for a time), this small town's main industry is the mill which has been present, but not in constant use, for over 150 years.

Saxapahaw's main claim to fame in modern years has been the rise to fame of one of its own, a man named B. Everett Jordan who served as a senator from North Carolina in the United States Senate from 1958-1973. Apparently a well-liked and respected man across the state, the man-made Jordan Lake, located in Wake County, was named for him as well.


Following are pictures taken from an excursion I and my friend Michael took. Each smaller GIF image is linked to a larger, (hopefully) clearer JPEG.
---
You may also be interested in reading some reflections on a stroll in Saxapahaw that was written by Keith Weston.
---
[left] Coming into town off of Route 54, the road gradually gives way to more townish features. This small grocery store - or shadow thereof - is one of the first indications that more towny things lie on the way.
---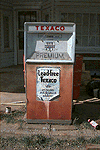 [right] A pump whose register still reads "6 6" in the space for "cents per gallon" proudly proclaims lead-free Texaco gas.
---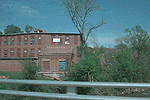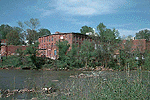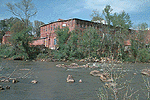 Three views of the Pioneer Cotton Mill, now home of Dixie Fabrics, from the Haw riverbank.



---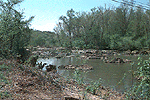 The Haw River as viewed on the opposite bank from the mill. It is said that for a time, the Haw River was called the Saxapahaw River, after the Sissipahau Indian tribe who resided in the area. However, linguistic cropping being what it is, the title soon was shortened into something a little easier to say.
---
on to more of the saxapahaw excursion pages.
return to the virtual north carolina pages.