The Arthur Miller Journal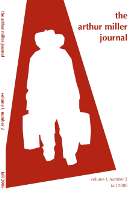 The Arthur Miller Journal provides a lasting legacy to Miller's significant contributions to American drama. The journal is published twice yearly under the auspices of the English department of St. Francis College in cooperation with the Arthur Miller Society and the Arthur Miller Centre at the University of East Anglia. For further information contact Stephen Marino, editor, at smarino@sfc.edu



--------------------------------------------------------------------------------------------




Subscription Form
To subscribe to the Arthur Miller Journal
Complete this order form and mail to:

Scott Weiss, Managing Editor


The

Arthur Miller Journal
St. Francis College
180 Remsen St.
Brooklyn, NY 11201

(Call 718 489 5457 for more information)


Subscription Rates: $25/year for individuals in U.S. and Canada;
$30/year for all institutions and overseas subscribers.
Checks and money orders in U.S. dollars only, payable to St. Francis College

First Name___________________________________________________________
Last Name___________________________________________________________
Address ___________________________________________________________
___________________________________________________________
Phone Number___________________
Email Address___________________




Submission information for Arthur Miller Journal
We welcome essays on any aspect of Miller's life, work, and career, both on individual works and evaluations of the scope of Miller's eight decades of writing
and his connection to other playwrights. We also are interested in publishing teaching notes and short notes regarding new approaches to Miller and his work.
In addition to these, we invite book, production, film, and performance reviews.
Please send all inquires and submissions to:
Stephen Marino, Editor
The Arthur Miller Journal
Communications Department
St. Francis College
180 Remsen Street
Brooklyn, New York 11202
Please submit two hard copies and a disk. Essays may also be sent as email attachments to:
smarino@sfc.edu
.
Essays should conform to the MLA Style Manual and not exceeed 8000 words.
Essays will be blind vetted; include your name only on a front page.
Essays will not be returned unless accompanied by a SASE.
Books for review and book reviews can be sent directly to the Book Review Editor:
George Castellitto
and Production, Film and Performance reviews to the Performance Review Editor:
Susan Abbotson
.
ST. FRANCIS COLLEGE
THE SMALL COLLEGE OF BIG DREAMS
Click here for a PDF of the program from the college's launching celebration for the Journal.


Last updated July 19th 2013