---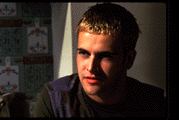 JONNY LEE MILLER (Dade Murphy), a gifted young English actor, makes his feature film debut starring as a decidedly American teenager with a genius for computers in HACKERS.
Since then, he has completed his second film, entitled Trainspotting, which reunited the filmmakers who created Shallow Grave, including director Danny Boyle. Filmed in Scotland, Trainspotting will be released in 1996.
In his native England, he has earned praise for his leading performances in several prestigious British television projects. His recent credits include "Meat," "Speaking in Tongues," "Prime Suspect III," "Bad Company" and "Goodbye Cruel World."
He has also garnered acclaim for his work on the stage in such plays as "Democracy," "Beautiful Thing," "The Neighbour," "Entertaining Mr. Sloane" and "Our Town."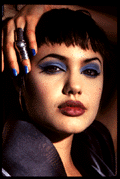 ANGELINA JOLIE (Kate Libby) landed her first feature film starring part in HACKERS, portraying the only girl in the group who can lay claim to the status of elite hacker. She previously had roles in the independent features Gathering Evidence and Oh No, Not Her, and followed HACKERS with Foxfire.

Growing up in Los Angeles, Jolie was no stranger to the film industry, being the daughter of Academy Award-winning actor Jon Voight. She later trained and performed at the Lee Strasberg Theatre Institute, where she was seen in several stage productions.

She worked as a professional model in London, New York and Los Angeles, and has also appeared in music videos for such artists as Meat Loaf, Lenny Kravitz, Antonello Venditti and The Lemonheads. In addition, she has acted in five student films for the USC School of Cinema, all directed by her brother, James Haven Voight.




FISHER STEVENS (Eugene a.k.a. The Plague) stars as a master hacker who has sold out his formidable skills for corporate greed and illegal profit. A veteran of stage, screen and television, Stevens has consistently proven his remarkable versatility in numerous roles.

On the big screen, his numerous credits have included John Sayles' Baby It's You and Brother From Another Planet, Garry Marshall's The Flamingo Kid, John Badham's Short Circuit, Barbet Schroeder's Reversal of Fortune, Stephen Frears' Hero, Rocky Morton and Annabel Jankel's Super Mario Bros., Norman Jewison's Only You and the upcoming Cold Fever.

Stevens starred in the Fox Network's series "Key West." Among his additional credits are the ABC telefilm "Columbo" and the Showtime movie "Right to Remain Silent."

An accomplished stage actor, Stevens has appeared on Broadway in leading roles in such productions as the revival of "Carousel" at Lincoln Center, "Brighton Beach Memoirs" and "Torch Song Trilogy." He was also seen off-Broadway in "The Perfect Ganesh," by Terrence McNally, and "A Midsummer Night's Dream" and "Twelfth Night" at the N.Y. Shakespeare Festival. In addition, he was the co-founder of New York's Naked Angels theatre company.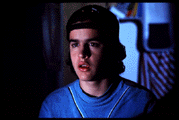 JESSE BRADFORD (Joey) stars as the youngest member of the group, who needs one "righteous" hack to earn the respect of his friends.

Bradford most recently starred in Far From Home: The Adventures of Yellow Dog, which was the last film from the late director Philip Borsos. He had previously earned critical acclaim for his memorable performance in Steven Soderbergh's King of the Hill.

Bradford's additional film credits include Alan Pakula's Presumed Innocent, Herbert Ross' My Blue Heaven, Ulu Grosbard's Falling in Love and John Hancock's Christmas classic Prancer.

He has also been seen on television in the telefilms "Classified Love" and "The Boys," as well as in the highly-praised series "Tribeca."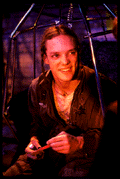 MATTHEW LILLARD (Cereal Killer) portrays the pig-tailed cyber-surfer, whose offbeat humor and bohemian lifestyle make him, perhaps, the most bizarre member of the group.

He first caught the eye of moviegoers as Kathleen Turner's son in John Water's Serial Mom. He recently appeared in Mad Love, with Drew Barrymore and Chris O'Donnell, and the interactive adventure Ride for Your Life. He will next be seen in Helen De Michiel's Tarantella and is set to star with Neil Patrick Harris in the feature Animal Room.

Lillard studied at New York's prestigious Circle In the Square Theatre, and later founded the theatre company Summoner's Ensemble with a handful of Circle alumni. He executive produced and starred in their original production "G.O.D.," and also produced "An Evening of Dorothy Parker" for the company. His New York theatre credits also include: "A Child's Christmas in Wales" and "Between the Lines" at Circle in the Square; and "Tracers," "Our Town" and "The Foreigner" with the Mean Street Ensemble.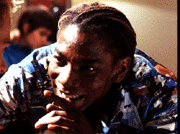 LAURENCE MASON (Lord Nikon) plays the oldest and most independent of the hackers, whose handle pays homage to his photographic memory.

Mason has previously been seen in such feature films as The Crow, True Romance, The Keeper, Parallel Sons, New York Cop and Agent Breaker.

On the small screen, he appeared in HBO's acclaimed true-life movie "Power: The Eddie Matos Story" and the HBO series "Hard Core T.V." He also guest starred on NBC's "Law and Order."

Mason has also worked extensively on the New York stage, appearing in such plays as "And the World Laughs With You," "Blackout," "Fellow Passengers," "The Living News," "Chapter and Verse," "The Nightingale," and the Broadway production of "Free to Be You and Me."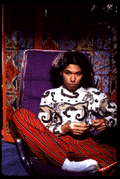 RENOLY SANTIAGO (Phantom Phreak) stars as the hacker who first befriends Dade, and whose talent for usurping phone lines rivals anyone's ability to access computers.

Santiago is presently on screen in the highly acclaimed hit contemporary drama Dangerous Minds, in which he stars as Raul, opposite Michelle Pfeiffer. He is currently at work on the new Sylvester Stallone thriller entitled Daylight.

Born in Mayaguez, Puerto Rico, Santiago began his career on the stage. He will soon be seen as The Umbrella Man in Paul Simon's upcoming Broadway musical, "The Capeman." He has worked in numerous musicals and off-Broadway productions, including: Elizabeth Swados' "The New Americans"; "Voices From the Front" at Carnegie Hall, in which he was a featured soloist; "Stand-Up Tragedy"; and "The Me Nobody Knows," for which he created the role of Hector.

Also an accomplished writer, Santiago's credits include "Bring in the Morning, A Wake-Up Call," which was the first book musical ever produced at the Apollo Theatre. He also co-wrote the Emmy-nominated pilot episode of the ABC and Henson Productions series "City Kids."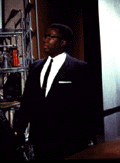 WENDELL PIERCE (Agent Gill) plays the computer-illiterate Secret Service agent who is determined to bust the teenage hackers. With a long list of film, television and stage roles to his credit, he has worked with such outstanding directors as Woody Allen, Spike Lee, Brian De Palma and Sidney Lumet.

His many film credits include Waiting to Exhale, Bye, Bye Love, It Could Happen to You, Manhattan Murder Mystery, Malcolm X, A Rage in Harlem, Casualties of War and Family Business.

On television, he was seen in the cable projects "Strapped," "The Ten Million Dollar Getaway," "Vietnam War Story: The Pass" and "Avenue Z Afternoon." He has also guest starred on several network series, including "I'll Fly Away," "Law & Order," "The Equalizer" and "Capital News."

A graduate of the Juillard School of Drama, Pierce also has an extensive theatre repertoire, including the Broadway runs of "The Piano Lesson," "Serious Money" and "The Boys of Winter." He also appeared off-Broadway in such plays as "Tis Pity She's a Whore," "The Good Times are Killing Me," "Cymbeline" and "Two Gentlemen of Verona," as well as in numerous regional productions.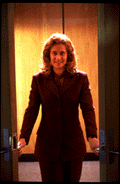 LORRAINE BRACCO (Margo) stars as The Plague's partner in crime, for whom cyber-speak might as well be a foreign language.

Bracco was honored with Academy Award and Golden Globe nominations for her performance in Martin Scorsese's GoodFellas. In addition, she was named Best Supporting Actress by the Los Angeles and Chicago Film Critics Associations for her work in the film.

She most recently starred in the French film Les Menteurs, opposite Betty Blue's Jean Hughes Anglade, and includes among her additional credits The Basketball Diaries, with Leonardo DiCaprio, Even Cowgirls Get The Blues, Medicine Man, opposite Sean Connery, Blake Edwards' Switch, Talent For the Game, The Dream Team, Sing and Ridley Scott's Someone to Watch Over Me.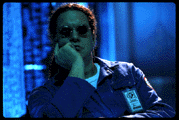 PENN JILLETTE (Hal) is the larger and louder half of the famed comedy duo Penn & Teller. With his partner, he has won an Obie, an Emmy and numerous other awards and has delighted audiences on and off Broadway, throughout North America and in England.

Penn & Teller wrote and starred in the film Penn & Teller Get Killed, directed by Arthur Penn, and starred in the series "The Unpleasant World of Penn & Teller" for Britain's Channel 4. In addition, they have performed on innumerable variety specials and talk shows, including regular appearances on "Late Night With David Letterman."

Together, they have co-authored two best-selling books: Penn & Teller's How To Play With Your Food and Penn & Teller's Cruel Tricks for Dear Friends. The latter was the name of their popular home video.

On his own Jillette has been seen in the films Tough Guys Don't Dance, Savage Island, Off Beat and Half Japanese, The Band That Would Be King. He also has a recurring role on Fox's "VR.5," has guested on an episode of "Lois & Clark: The New Adventures of Superman," and is the voice of cable's Comedy Central.

Appropriate to his role in HACKERS, Jillette is active in the world of computers, having written for PC Computing Magazine and lectured at various computer and science conferences.
---

For Movie Ticket Information, Click Here