This site has been mirrored for historical and academic purposes.
University of North Carolina at Chapel Hill, October, 1996.
---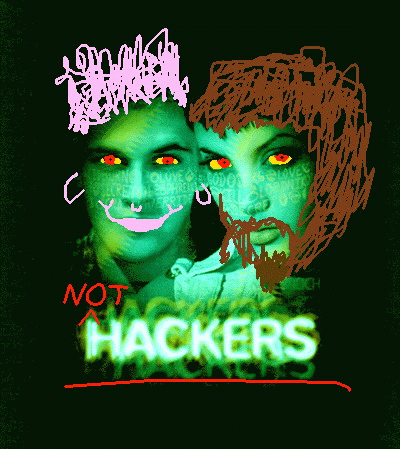 This page is brought to you by

The premiere hacker conference.
---
THEY'VE LIED ABOUT US... ARRESTED US...
AND OUTLAWED US.
BUT THEY CAN'T KEEP US OUT...
AND THEY CAN'T SHUT US DOWN.
---
This is going to be a lame, cheesy, promotional site for a movie.
Nothing more, we're not out to become experts in hacking or forward your hacks to the FBI.
We're just looking for interesting scenarios to help us make money off of other people.
HACKERS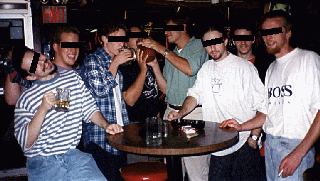 Hackers, the new action adventure movie from those idiots in Hollywood, takes you inside a world where there's no plot or creative thought, there's only boring rehashed ideas. Dade is a half-wit actor who's trying to fit into his new role. When a seriously righteous hacker uncovers MGM/UA's plot to steal millions of dollars, Dade and his fellow "throwbacks of thespianism," Kate, Phreak, Cereal Killer and Lord Nikon, must face off against hordes of hackers, call in the FBI, and ponder a sinister UNIX patch called a "trojan." Before it's over, Dade discovers his agent isn't taking his calls anymore, becomes the victim of a conspiracy, and falls in debt. All with the aid of his VISA card. Want the number?

What Kool-Aid was to Jonestown...What the 6502 is to the Cellular Telephone Industry...Hackers is to every Cyberpunk movie ever made. Check out the site and see for yourself.

Hack the Planet!

Or better yet, go check out some real hacker sites like 2600 or Phrack Magazine
---
---
KNOWLEDGE ISN'T FREE

DON'T HACK THE PLANET

DON'T SEE HACKERS

IT SUCKS

BUY "TEACH YOURSELF C IN 21 DAYS" INSTEAD
---
---

While you're here, stop by the L0pht

Created by Digital Planet Hacked by ILF