Return to Naval Historical Center home page.

Return to Online Library listing


DEPARTMENT OF THE NAVY -- NAVAL HISTORICAL CENTER
805 KIDDER BREESE SE -- WASHINGTON NAVY YARD
WASHINGTON DC 20374-5060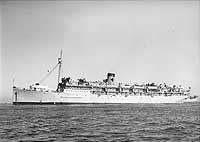 Online Library of Selected Images:
-- CIVILIAN SHIPS --
American Navigator (American Training Ship, 1942).
Originally S.S. City of Chattanooga (American Coastal Passenger Ship, 1923)
SS City of Chattanooga, a 5,861 gross ton coastal passenger ship, was built at Newport News, Virginia, in 1923 for the Ocean Steamship Company of Savannah, Georgia. She was chartered for operation by the Navy Department at Boston in September 1941 and assigned to the Navy Training Service at New York in December 1941. She was then employed by the Coast Guard to train merchant marine sailors, a responsibility assigned to the Coast Guard in 1938. In July 1942, after this duty was shifted to the War Shipping Administration (WSA), City of Chattanooga, then at Baltimore, was transferred to that agency. Probably renamed American Navigator at this time, she served WSA as a merchant marine training ship for the rest of the war. Placed in reserve at Suisun Bay, California, in January 1946, S.S. American Navigator was sold for scrapping in March 1948.
This page features the only view we have concerning the training ship American Navigator, which was originally the coastal passenger steamer City of Chattanooga.
Click on the small photograph to prompt a larger view of the same image.
Photo #: NH 98765

SS American Navigator

In San Francisco Bay, California, in late 1945 or early 1946 while serving as a merchant marine training ship.
This coastal passenger ship was built in 1923 as City of Chattanooga for the Ocean Steamship Co. of Savannah, Georgia.

Donation of Boatswain's Mate First Class Robert G. Tippins, USN (Retired), 2003.

U.S. Naval Historical Center Photograph.

Online Image: 64KB; 740 x 550 pixels

Return to Naval Historical Center home page.
Page made 3 September 2005