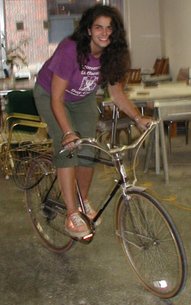 Welcome to the Orange County Social Club
OCSC is the newest bar on the Carrboro, NC scene; located right at 108 Main Street.

However new it may be, it is already getting plugs from David Byrne.

You should check out OCSC next time you're in Carrboro!

This is Trish on her bike. You should click on Trish!


*Update 02.16.02*

This page went up on August 30, 2001 which was before the OCSC was even open, I believe. Its main purpose was to display the construction pictures for Trish and others. However, people keep visiting it for some reason. Somewhere deep and dark within the Google cache it must reside...

Since that time, OCSC has received a good deal of (well-deserved) attention. I plan on posting all the OCSC-related links that I can find. Let me know if I am missing any.

Thanks!

I think this one is the 'official' site for the OCSC - http://www.carrboro.com/ocsc/. It is a nice looking site and the pictures really show off how nice the place looks on the inside. Usually when you're in there, chances are it will be significantly darker. :)

Internetworkers took place at OCSC, October 2001. They were even kind enough to post a link to this page! Thanks, Joe! - http://www.ibiblio.org/internetworkers/meeting/mpics_10_01.php3

Triangle CitySearch has a pretty good write up of the club. - http://triangle.citysearch.com/profile/11624468/

<please send questions and/or comments to the dude>