friday december 8th, 2000
jill sobule and warren zevon at the cats cradle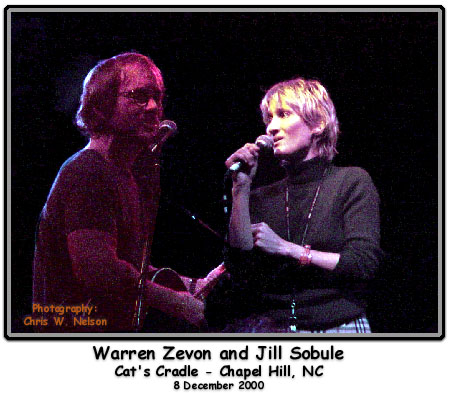 this was a 'last-minute' type of show because i did not hear about it until (literally) a few days before the show. so i was at work late on a friday, trying to decide whether to go to uzi's dj show for careercowboy.com in raleigh -or- to take a shot at this last minute sobule/zevon show.
let me get this out in the open *right*away*; i did *not* go to this show to see warren zevon. i had nothing against him, it was simply that besides the "werewolves in london" song and perhaps the "lawyers, guns, and money" song, i had very little knowledge of his musical repertoire. _i_ went to the cradle this friday night to see the incredibly talented jill sobule. on one of the occasions when warren was thanking her for her performance, he referred to her as 'the inimitable jill sobule.' i thought that was very sweet.
so, as i was walking out of my office building at almost 8:00 p.m. on a friday night, i still had no idea what i was going to do with my friday night. as i walked to the parking lot, i encountered mike z and steve x. they were waiting for someone to arrive so they could all go eat dinner. they invited me along, but i had eaten a late lunch and was not much in the mood for socializing. i asked them what they were up to and they asked what i was doing. honestly, by this time in the evening, i was so tired that all i wanted to do was go home and get in bed.
i was still unsure what i was doing that night, so when they asked, my response was "oh, i'm trying to make a show at the cradle." a very common, familiar, and comfortable utterance for me, i assure you. at this point, steve asked if he could tag along with me to the show.
in a way, my evening's decision kinda got made at that instant because usually when someone is interested enough to ask me to spend time, i oblige. so we decided to head to carrboro to take a chance on a completely impromptu concert.
i was not even sure if there would be tickets available, but i figured if the rest of the cat list heard as late as i did, then we had a fighting chance. once we parked and headed in, i could instantaneously tell that we would be able to get in. there were not throngs of people outside with pissed off looks on their faces (as is usually the case with sold out shows). it was only 8:40 p.m. or so and as we approached the cradle, i could hear that jill was already playing. i don't think we had missed much by this point.
a little background is in order. within days of the first time i heard the 'i kissed a girl' single, i had the cd and was madly in love with jill sobule. not necessarily in a romantic way because:
a: i had a girlfriend at the time
-and-
b: i didn't think jill would be interested in me.
i was in love with her music. it was so refreshing to hear and see an artist like her come along in the relatively rock and pop driven cycle of record sales. she just sounded so 'cute' and once i got to finally see the video for the single, i could confirm this as true. (plus, the whole use of fabio cracked me up).
since roughly march 1996 i have been eagerly anticipating the opportunity to see her play live. so, i guess all that time deliberating at the office was idle mind play. days ago when i got the email telling me of the performance, my body was already programmed to be at the cradle on this particular night.
steve and i stepped in the house about 8:42 p.m. After completing the correct ticket purchasing procedure, we were admitted. as soon as we passed the i.d. checker (whom i met tonight - his name is billy) and rounded the corner to see the stage, we stopped and camped out in front of the right side monitor.
jill was playing a relatively old song and everyone in the crowd seemed to be having a good 'ol time. soon thereafter, she began asking us to call out requests. she played a very beautiful version of 'mexican wrestler' which i think had a profound effect on the crowd (or some members thereof). she also pulled off a rather rousing version of 'karen by night.' prior to playing the song, she took time to explain how and why the idea for the song came about. years ago, jill worked at a barnie's shoe store in new york city. she had a very chic, yet reserved looking boss. but she always suspected that there was more to "karen's" life than she led on in the shoe store... so one night, she tailed her! this was when she discovered that she rode a harley davidson and dressed in leather and went to underground clubs in the city. hence the inspiration for the song. oh yeah, jill also added that she had sold shoes to both barbara streisand and cher; noting that babs was "a bitch," but "cher was cool." he he he... like we all couldn't have anticipated that.
midway thru her set, jill had a young lady from the front row come on-stage to hold some lyrics. they were for a song called 'youthful indiscretion.' the song highlights the disparity in applications of the law (in texas); in particular, examining the difference in punishments suffered by either george w. bush or some random crack dealer (who was also named george). bush gets pulled over and the cop lets him off and says to "tell your dad 'hi'." the other george gets his head bashed in and thrown in prison for a decade or so. very good stuff here.
she did another quirky song ... i think it was about kathie lee gifford. in it she mentioned something about kathie lee 'being on top.' it was really funny.
then she broke into a snoop doggy dogg rap set to a bluegrass guitar rhythm. it was "gin and juice" and it was funny as hell. she altered the rap a little and soon ran out of lyrical content, but it was a fun interjection.
after all the playing around, jill began to explain about her big hit single "i kissed a girl" and announced that she was going to perform it. she began strumming the guitar chords and suddenly warren zevon was onstage and he began singing the vocals. they both sang various sections and played really well off of each other. i imagine they had a great deal of fun together on the tour, as it seems they spent considerable time together practicing.
once again, she called out for audience requests. several folks shouted different tracks and i yelled "houdini's box," but unfortunately my voice barely made it over the crowd. so she was accepting requests from the left side of the audience and in a brief lull in the clamor, i was able to yell my request again and she immediately turned in my direction and said "i'll play that" and i waved at her like an idiot. it made some people giggle at least. ;)
she began playing "houdini's box," but immediately had to stop and tune her guitar because (at least to jill's ear) it was sounding strange. the crowd laughed and she quickly spun off another gag improvisation. jill was exuberant and lively tonight; exactly like i pictured her. seconds later her focus was back and she began the song. it was amazing. in my biased opinion, i think this was one of the times during her performance when her voice sounded the finest.
the crowd was still for the most part and it was just jill, a guitar, and her powerful, beautiful story. which was the whole reason i was there tonight.
after my request, she played a newer song "when my ship comes in" and did a fantastic job of covering the song. then she went off the stage. after a minute, she came back out and said "this is my first encore." i didn't know if she meant this was the first of her many successive encores tonight (a la barbara streisand) or if this was actually her 'first encore.' for now, this question remains partially answered by the fact that after only one track she left the stage and did not come back.
the encore song was "big shoes" which was about jill having to wear big, frankenstein-like shoes while in the ninth grade. they were orthopedic shoes that her mother made her wear. "could hear her coming a mile away."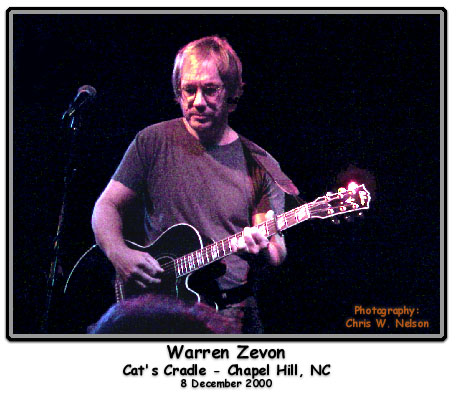 with minimal stage shifting and setup agony, warren zevon was onstage with a guitar. right away he dove into the performance by bringing to life one of his more famous tracks; "lawyers, guns, and money." his voice sounded really good and the acoustic was crisp. i think his second track was "boom boom mancini" which was a welcome treat to me; since i had never heard it before and it was an amazing and beautiful song.
warren played an interesting mix of tracks; sometimes on guitar, sometimes on the keyboard. there were several occasions when jill came on stage to sing with him. very late in the show, they did a cover song together. as far as i could gather from the story he told, it had something to do with canada -- or making it big in canada.
later in the show, warren pulled out a track that required audience participation... to the effect of everyone shouting "hit somebody." it was about this huge guy from the countryside in canada who makes it on a pro hockey team simply because of his size and ability to decimate opponents. it was quite a humorous and charming song; as were a lot of warren's tracks. however, (at least for me) i enjoyed his quiet, poignant, and ballad-like songs a lot more than the witty, tongue-in-cheek tales of hilarity.
as expected, the house went wild once warren began the familiar piano intro to "werewolves of london." it was a blast to be howling at the top of my lungs amongst several hundred other people doing the same. all told, it was a fantastic experience to go out on this night and catch a last minute concert. i think steve had a good time and i know i had a great time.
the best part, which i can't believe i forgot up 'til now, was that during parts of the warren zevon show, jill was sitting in the t-shirt booth and was talking to fans. i went at one point, but she had gone out to 'the bus.' next thing i know, she was on-stage with warren (i think) covering a stones song. when i noticed she was back in the booth, i had to go over and meet her.
and what a cool experience that was. she seemed very interested in meeting her fans and listening to us blather about how big of fans we all are. she was signing cds for folks, but i did not have anything for her to sign. anyway, she looked around and grabbed a napkin and then signed it for me. i thought it was very nice of her to go out of her way to find a napkin to sign for me. i guess i could have bought another copy of one of the discs she was selling, but i didn't really need any extra copies.
it was a true pleasure getting to thank jill personally for all the great music she has brought to the world and to tell her how much i appreciated her effort. hopefully, she will continue to make music for as long as she enjoys it. oh yeah, warren was great too - i plan on venturing to a local cd shop to pick up some of his discs soon. i've been advised to start listening with "excitable boy."
the crowd was a maturing, yet varied bunch. in their midst, i met several very cool and very nice folks. one of them was chris nelson, who was kind enough to allow me to use two of his excellent photographs. thanks a bunch, chris!
well, this hereby ends this lengthy and boring account of my night out at the cradle. thanks for reading.
~cmd~