MILLER EVENTS
Scroll down to view Calls for papers, Conferences and panels, Current productions,
and Special events, as well as links to archives for past events.
We would appreciate it if you could send us any current information for the following categories to make them as detailed as possible; include past, current and future events so that people can use this as an archive. Send information to webmaster
Sue Abbotson
. We try to keep only upcoming events on this page--but you can link in each section to archive pages for information on past conference papers, productions and events.
N.B. For information on the Arthur Miller Journal--including how to subscribe and content lists for
previously published isssues, go to the Journal website.

The Arthur Miller Theater at the University of Michigan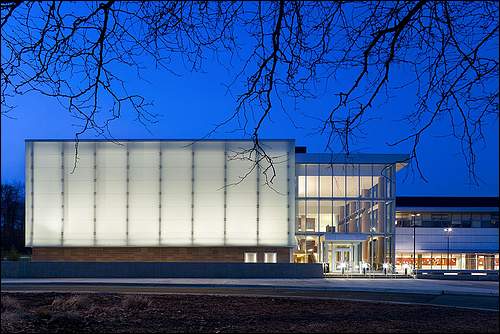 Calls For Papers:
The Arthur Miller Society is always looking for anyone who would like to organize Miller panels at conferences, such as ALA, SAMLA, CDC, American Studies, ATHE--please contact our current President, Paula Langteau, with proposals/details.

During Arthur Miller's 2015 centennial year, the expectation is that conferences, theaters
and publishers will be especially interested in engaging with Miller material,
and so we encourage you to share any plans for celebrations,
publications or productions with the society that we can help to publicize,
or solicit us for ideas/assistance.
The Arthur Miller Centennial
October 16-18, 2015
Sponsored by the Arthur Miller Society at St. Francis College, Brooklyn, New York

The Twelfth International Arthur Miller Conference will center on the observance of
the 100th anniversary of Arthur Miller's birth in New York City on October 17, 1915. We are pleased to return to St. Francis College in Brooklyn Heights, the neighborhood where Arthur Miller lived the in 1940s and 50s.

We seek papers on any aspect of the dramatic and non-dramatic work that Miller produced in his stellar career. We invite discussions from all critical and performance perspectives. We also are interested in analysis of Miller as a political and cultural figure, his connection to and influence on other playwrights, and comparative studies.

The conference also wants to include discussion of the artistic relationship between Arthur Miller and his wife Inge Morath, the world-renowned photojournalist. The society desires to provide a venue for academic inquiry into how Miller and Morath collaborated on their books of photojournalism and dramatic productions and how they informed each other's art, aesthetics, and politics. The conference will feature of photo exhibit of Morath's work provided by her foundation.

The conference also will include panels comprised of playwrights, theatre critics, actors, and directors. In addition, we plan staged readings and performances of Miller's work.

Please forward abstracts or completed manuscripts for a presentation not to exceed twenty minutes to:
Stephen Marino
The Arthur Miller Journal
St. Francis College
180 Remsen Street
Brooklyn, New York 11202
smarino@sfc.edu

Deadline for submission is February 1, 2015
Click here to get a .pdf flyer you can post to help spread the word!

Ongoing CFP:
Arthur Miller Journal
Looking for papers on any aspect of the life and work of Arthur Miller for the
Arthur Miller Journal
which is published Spring and Fall. Go to the
Journal
page for more detail regarding submissions, subscriptions, contact e-mails for the various editors, and for contents of past volumes. You can make a submission to the Journal of an essay, performance review, or book review, as well as offer material for the notes section--directly at this
website
. If a Miller play is being produced in your area (check the listings below)--please attend and upload your review through the above link (website).




"LAUGHING MATTERS?: HUMOR IN AMERICAN THEATRE AND DRAMA"


FIFTH INTERNATIONAL CONFERENCE ON AMERICAN THEATRE AND DRAMA

Málaga, Spain on 25th-27th May 2016
Humor in its various forms, as well as the effort to contain it, has been present from the very first traces of a theatrical tradition in America, which opens with an attempt to perform a farce being promptly suppressed by the authorities. Entertainment has always been a key function of American theatre, and humor has been among the most recurrent mechanisms when it came to getting an audience to laugh heartily and send it home in a hopeful, light mood, sure of its values and world-view, and conveniently "humored." Music, vaudeville routines, slapstick, and countless other manifestations of so-called lowbrow theatrical culture (whether mistakenly or not) were often thought to pose no threat whatsoever to the status quo and the deep-seated convictions of audiences. However, the repeated struggle to repress and control even supposedly innocent forms of entertainment suggests that, in spite of appearances, humor and comedy have been seen as no laughing matters, and have been used in potentially subversive ways to mirror, satirize and criticize the manners and foibles of society in the U.S.
The Fifth International Conference on American Theatre and Drama, a collaborative venture between three Spanish universities (Málaga, Cádiz, Seville) and the ATDS, is the continuation of a series of conferences that have brought together hundreds of American drama and theatre scholars from all over the world, and will be held in Málaga on 25th-27th May 2016.
For this event we would like to build on the possibilities opened up by the title to invite participants to look at the uses, purposes, kinds, and effects of humor and laughter as deployed by American playwrights over the years, both in entertaining and pleasing audiences, and in proving that laughing –at what or whom, when, where, how, and for what reason-- certainly matters.


The Conference can thus address, among many other topics, the origins and development of an ample variety of forms of entertainment and light comedy in the USA, examining such issues as the vaudeville, the musical, the romantic comedy, or the convention of the happy ending, as well as the transformation of such entertainment into a characteristic Broadway product and its later adaptations by Hollywood and the mass media. Conversely, it can consider why the playwrights often thought of as contributing most to the American theatrical tradition are those who have refused to treat many issues as simply "laughing matters," and have not given audiences what they expected or demanded, either because they have not incorporated humor, or because they incorporated it in unexpected, challenging, unsettling ways. We are also interested in the work of the dramatists or theater professionals who have consistently refused to simply entertain America, and in why they have chosen to do so. The dialectic springing from the aims of authors keen on unsettling certain sensibilities and the eventual resistance of audiences can similarly yield fascinating insights sure to enrich the conference.
Presentations are invited on topics including, but not limited to, the following areas:
-Particular forms and genres: conventions, uses, transformations, adaptations. This might include farce, slapstick, romantic comedy, the musical, physical comedy, stand-up comedians…
-The functions of humor: Entertainment, comic relief, satire, sarcasm, irony…
-Humor as a therapeutic tool.
-Humor and the criticism of American culture, society and politics.
-Pleasing/confronting American audiences.
-The limits of humor: censorship, political correctness, audience reactions
- Audience reception: how does humor work from a cognitive perspective?
- Humor and the critics: revisiting how critics have tended to prioritize tragedy over comedy
- Transatlantic laughter: are there particular forms of American humor that simply do not work when staged abroad?
-Translating humor: linguistic, social and/or cultural elements
-Adapting laughter between genres: from dramatic text to film script
-The use of comedy as a feminist tool
-Humor and language: word play, signifyin', sarcasm, etc.
-Camp as a specific tradition: parody, performance, identity
-Humor and minorities: Is there a specific Jewish-American/African-American/ Mexican-American/homosexual/lesbian… sense of humor?
To submit your proposal, please write a brief e-mail stating its title and including a 5-7 line resume, attach a 450 -word abstract, and send it to
humor2016@uma.es
by September 30, 2015. Proposals will be carefully considered, and feedback will be provided within 45 days.
CALL FOR PAPERS
JCDE: Journal of Contemporary Drama in English
Editors: Martin Middeke (Augsburg, Editor in Chief), Eckart Voigts (Brunswick),
Christina Wald (Berlin, Reviews), Clare Wallace (Prague)
Publisher: De Gruyter (Berlin/Boston) http://www.degruyter.com/view/j/jcde
The bi-annual, peer-reviewed journal focuses on contemporary Anglophone dramatic literature
and theatre performance. It renegotiates the understanding of contemporary aesthetics
of drama and theatre by treating dramatic texts of the last fifty years.
For issue 2.2 (2014), we invite papers engaging in close readings of plays that also touch upon
historical, political, formal, theoretical and methodological aspects of contemporary drama, theatre, and performance.
Essays should be no longer than 8,000 words (including notes and bibliography) and should be
formatted according to MLA style (7th edition, 2009). Deadline for issue 2.2 (2014) is 15 June 2014.
ESSAY CONTRIBUTIONS should be sent to: Prof. Dr. Martin Middeke, Chair of English Literature,
University of Augsburg, Universitaetsstraße 10, D-86159 Augsburg, Germany.
EMAIL: martin.middeke@phil.uni-augsburg.de
SUGGESTIONS FOR REVIEWS should be sent to: Prof. Dr. Christina Wald, Humboldt Universität zu Berlin, Philosophische Fakultät II, Institut für Anglistik und Amerikanistik, Unter den Linden 6, D-10099 Berlin, Germany.
EMAIL: christina.wald@hu-berlin.de
Hungarian Journal of English and American Studies

published near the close of 2006 a special Arthur Miller Edition: Volume 11, Number 2 (2005): ISSN: 12 18-7364 that contains several new essays on Miller's work--see details in the archive link below for

Special Events/News/Releases 2007

regarding how to order yourself a copy. The Journal is meanwhile looking for further submissions: Manuscripts should conform to the latest edition of the MLA Handbook in all matters of style (parenthetical citations keyed to a works-cited list). Contributions on history should conform to the latest edition of the Chicago Manual of Style. All submissions should be sent together with a disk copy of the article in Word 95 for Windows. All correspondence should be addressed to the Editor, HJEAS, University of Debrecen, Pf. 73, Hungary 4010; e-mail:

abnagyzo@delfin.unideb.hu



Below are photographs of Mr. Miller from the 9th International Arthur Miller Conference, taken by Dr. Jeffrey Mason, University of Oregon.






Conferences and Panels:

(Link to AMS conference archive) (Link to ALA archive)



Members, especially, please make every effort possible

to attend any conference panels with
papers on Miller and

support the continuation of

Arthur Miller

scholarship.

Every year the Arthur Miller Society arranges for two panels and a business meeting at the American Literature Association (ALA) conference that takes place in May (alternating between Boston and San Francisco). Check their website (http://americanliterature.org) for more details, and

let us know

if you are interested in organizing a future panel.


Two exciting panel discussions organized by the Arthur Miller Society
will be presented at the 26-28 March 2015
Comparative Drama Conference

in Baltimore:





Session Title: How Plays Become Classics – A Centennial Discussion of the Works of Arthur Miller on Saturday, March 28, from 10.30 to 11.45.

A 75 minute round-table. Statements from five panelists regarding why some works of literature continue to resonate with audiences so that they become classics? We shall explore this issue by looking at the plays of Arthur Miller, their role in American culture, and the reasons they continue to be produced so widely around the world.

Presider: David Palmer, Massachusetts Maritime Academy.

1: Susan C. W. Abbotson, Rhode Island College

2: Claire Gleitman, Ithaca College.

3: Susan Albert Loewenberg, L. A. Theatre Works in Los Angeles.

4: Stephen A. Marino, St. Francis College.

5: Brenda Murphy, University of Connecticut.



Plenary Session: Visions of Tragedy in American Theatre on Saturday, March 28, from 1:30-3:00.

A 90-minute round-table. Statements from eight panelists, each devoted to a different American dramatist's vision of tragedy, followed by discussion among the panelists and then an open discussion with the audience where visions of tragedy beyond those of American dramatists also may be considered.

Co-Chairs:

1. David Palmer, Massachusetts Maritime Academy

2. J. Chris Westgate, California State University, Fullerton

Panelists:

1. On Edward Albee: Lincoln Konkle, The College of New Jersey, Edward Albee Society

2. On Susan Glaspell: Sharon Friedman, New York University, Susan Glaspell Society

3. On David Mamet: Brenda Murphy, University of Connecticut

4. On Arthur Miller: Stephen A. Marino, St. Francis College, Arthur Miller Society

5. On Eugene O'Neill: Jeffery Kennedy, Arizona State University, Eugene O'Neill Society

6. On Thornton Wilder: Jackson R. Bryer, University of Maryland, Thornton Wilder Society

7. On Tennessee Williams: Susan C. W. Abbotson, Rhode Island College

8. On August Wilson: Sandra G. Shannon, Howard University, August Wilson Society


American Literature Association 26th Annual Conference
http://americanliteratureassociation.org/calls/annual-conference/
Boston, Massachusetts May 21-24, 2015



The Arthur Miller Society business meeting will take place on Friday 22 May, during Session 8-O, 9:40 to 11:00. Our two academic sessions will take place the same day in the afternoon.

Organized by David Palmer, Massachusetts Maritime Academy: dpalmer@maritime.edu.

Arthur Miller at 100: Centennial Reflections on His Life and Work

(

Session 10J, 12:40 - 2:00 p.m.)

Chair: Joshua Polster, Emerson College

1. "Memory and the American Cultural Unconscious in Arthur Miller's

The Price

," Lewis Livesay, Saint Peter's University

2. "Attention Must Be Paid: Staging Linda Loman in the 21st Century," Rosemary Malague, University of Pennsylvania

3. "Willy Loman and the Walking Dead," Stephen Marino, St. Francis College and the Arthur Miller Journal

Making Willy Loman Real: A Round-Table Discussion of

Death of a Salesman

in Performance (

Session 11E, 2:10 - 3:30 p.m.)

Moderator: David Palmer, Massachusetts Maritime Academy

Beginning with a reminiscence of the role the play had as a turning point in a person's life, the discussion continues with a short presentation on major past productions and interpretations, and focuses on the vision of the play in the critically acclaimed production at Boston's Lyric Stage Company in the winter of 2014. Open discussion with the audience is encouraged. Panel consists of:



Susan C. W. Abbotson, Rhode Island College

Ken Baltin, Actor

John D. Grote, Baylor University

Paula Plum, Actor

Spiro Veloudos, Lyric Stage Company of Boston







Outside the William Inge Theatre they have




planted a tree for each past Honoree of the




William Inge Festival Achievement Award




who has passed on.




The tree they planted in Miller's




memory right outside the




William Inge Theatre in




Independence, Kansas.




Here is the plaque at the base of the tree.



Current Stage Productions (Link to Archive)
A useful place to check for upcoming productions of plays is the DPS website, where you can search by the playwright to see which plays have been licensed through them for production (both professional and non-professional). The listings below, however, contain more details and generally more up-to-date information.

If you are looking for a Miller expert to provide a lecture, keynote, seminar or talkback in conjunction with a production, please contact us and we will try and put you in touch with any scholars in your area.


Productions During 2015
All My Sons

Dec. by Wanderlust Theatre Co. at Cité des Arts, 109 Vine Street, Lafayette, LA. Call (337) 291-1122 or check the

website.

All My Sons

6-22 Nov. by Snug Theatre, 160 S. Water St., Marine City, MI. Call 810 278 1749 or check the website.


The Crucible

13 October – 8 November 2015 by Theatre Calgary, 220 - 9th Ave. S.E., Calgary, AB, Vancouver, Canada. Call 403-294-7440 or check the

website.

The Crucible

11 Oct.-8 Nov. Cleveland Play House, Playhouse Square,
1407 Euclid Avenue,Cleveland, IL. Call 216 241 6000, or check the website.

Death of a Salesman

16 Oct.-7 Nov. by Cincinnati Shakespeare Company, 719 Race Street, Cincinnati, OH. Call 513 381 2273 or check the website.


The Crucible

16-18 Oct. by Creative Arts Theater, 15615 8th St Victorville, CA. Call 760-963-3236 or check the

website.

Broken Glass

6-31 Oct. 2015 by Westport Country Playhouse, 25 Powers Court, Westport, CT. Directed by Mark Lamos. Call (203) 227-4177 or check the

website.

A Memory of Two Mondays

Sept/Oct. by Defibrillator Theatre, London, UK. Directed by Robert Hastie. Plans are to stage the play in a warehouse setting. Check the

website

for updates.

All My Sons

18 Sept. -4 Oct. by Bloomington Civic Theatre, 1800 W Old Shakopee Rd, Bloomington, MN. Call (952) 563-8575 or check the website.


The Crucible

18 Sept.-4 Oct. by Pec Playhouse Theatre, 314 Main St, Pecatonica, IL. Call (815) 239-1210 or check the

website.

All My Sons

12 Sept.-4 Oct. by People's Light and Theatre Company, on Leonard C. Haas Stage, 39 Conestoga Road, Malvern, PA. Directed by Kamilah Forbes. Call 610.644.3500 or check the website.


The Crucible

18-27 Sept. by Shelby County Community Theatre, 801 Main Street, Shelbyville, KY. Call 502-633-0222 or check the website.


Broken Glass

5-27 Sept. by New Repertory Theatre, Arsenal Center for the Arts, 321 Arsenal St., Watertown (Boston), MA. Directed by Jim Petosa, with Jeremiah Kissel. Call 617-923-8487 or check the

website.

The Crucible

17-19 Sept. by Paramount Arts Center, 
1300 Winchester Avenue, Ashland, KY. Call 606.324.0007 or check the website.


The Price

in Aug. by TimeLine Theatre, 615 W. Wellington, Chicago, IL. Directed by Louis Contey, with Mike Nussbaum. Call 773 281 8463 or check the

website.


Death of a Salesman

16 July-2 Aug. by Ironweed Productions, Santa Fe, NM. Directed by Scott Harrison, the production features Campbell Martin, Elizabeth Wiseman, Peter Chapman, Jonathan Harrell, Larry Glaister, Jonathan Dixon, Nicholas Ballas, Mary Beth Lindsey, Warren Houghteling, Rod Harrison, Kirste Plunkett, Jody Durham and Maureen Dolan. Call (505) 988-4262 or check the

website.


Death of a Salesman

July by Chats Productions, at the Jetty Memorial Theatre, Coffs Harbour, NSW, Australia. Directed by Rex Madigan. E-mail for

info,

or check the

website.

Incident at Vichy

27 July (staged reading) by Civic Ensemble Theatre, 127 Cleveland Avenue, Ithaca, NY. Call (607) 241-0195 or check the website.

The Crucible

17-26 July by Desert Foothills Theater, 34250 N 60th St, Scottsdale, AZ. Call (480) 488-1981 or check the website.


The Hook

5 June-25 July by Royal and Derngate theater in Northampton in 5-27 June, followed by a run at the Everyman Theatre in Liverpool in 1-25 July. Directed by James Dacre.The play is adapted by Ron Hutchinson from Miller's screenplay. Check their websites for more details:

Northampton

and

Liverpool.

All My Sons

9-28 June by Guild Hall at John Drew Theater, 158 Main St, East Hampton, NY. Directed by Stephen Hamilton, with Alec Baldwin and Laurie Metcalf. Call (631) 324-0806 or check the

website.

Death of a Salesman

5-14 June, by Sullivan County Dramatic Workshop, 437 Forestburgh Rd, South Fallsburg, NY. Call (845) 436-5336 or check the website.


Death of a Salesman

29 May-14 June by Barn Theater, on Plano Street at Olive Avenue, Porterville, CA. Call (559) 310-7046 or check the

website.

Death of a Salesman

23 May-20 June by Long Beach Playhouse, Mainstage, 5021 E Anaheim St, Long Beach, CA. Directed by Carl daSilva. Call (562) 494-1014 or check the website.

The Crucible

15 May-6 June by Hole in the Wall Theatre Company, 116 Main St.
New Britain, CT. Directed by Kelley Mountzoures. Call (860) 229-3049 or check the website.


The Crucible

22-30 May by Acting Unlimited at Theatre 810, 810 Jefferson Street, Lafayette, LA. Call (337) 484-0172 or check their Facebook

website.

The Price

13 May-21 June by Olney Theatre Center, at the lab space, 2001 Olney-Sandy Spring Road, Olney, MD. Directed by Michael Bloom. Call 301-924-3400 or check the

website.

There will be a pre-show discussion at 5pm on May 16.

Death of a Salesman

29 May-14 June by Porterville Barn Theater, 42 S Plano St, Porterville, CA. Directed by Dick Eckhoff. Call (559) 310-7046 or check the website.

The Crucible

8-23 May by Encore Theatre Company, 6978 Lebanon Road, Mt. Juliet TN. Directed by James Bealor. Call 615-598-8950 or check the website.


A View from the Bridge

8-17 May by at Cité des Arts, 109 Vine Street, Lafayette, LA. Call (337) 291-1122 or check the

website.

An Enemy of the People

15-24 May by Greater Shelby Community Theatre, Shelby, NC. Call (704) 480-8495 or check their

Facebook

page

.

Death of a Salesman

14-25 May by YourTheatre, 1857 White Mountain Highway, North Conway, NH. Call 603.733.5275 or check the website.


The Crucible

1-17 May by Creative Theatre-Muddy Water Players at the Playhouse at Museum Village,
Monroe, NY. Directed by Terri Weiss. Call (845) 294-9465 or check the website.


Death of a Salesman

1-16 May by Dreamwell Theatre Company, 10 S. Gilbert St., Iowa City, IA in two locations. 1-2 May at First Street Community Center, Mt. Vernon and 8-16 May at Iowa Children's Museum, Coralridge Mall. Directed by David Pierce, with Rip Russell, Krista Neumann, Matthew Falduto, and Brad Quinn. Call 319-423-9820, or check the

website.

Death of a Salesman

8-10 May by Port Huron Civic Theatre, 2625 Huckleberry Ln, Port Huron, MI. Call (810) 984-4014.


The Crucible

29 April-3 May at Helene Zelazo Center for the Performing Arts, University Of Wisconsin- Milwaukee, 2400 E. Kenwood Blvd. Milwaukee, WI. Call (414) 229-4308 or check the

website.

A View from the Bridge

1-3 May by Glens Falls Community Theatre, in Charles R. Wood Theater, Glens Falls, NY. Directed by Rene Roberge. Call (518) 792-1740 or check the website.


Death of a Salesman

1-2 May by MTV Arts, at Knox County's Memorial Theatre, 117 E. High Street, Mount Vernon, OH. Directed by Ian Fraser Ernsberger, with Bruce Jacklin, Cate Blair-Wilhelm, Aaron Moreland, Mike Andrews, and Richard McKinley. Call 740-358-0168 or check the

website.


The Crucible

11 April-24 May by Guthrie Theater,

Wurtele Thrust Stage,

818 South 2nd Street, Minneapolis, MN. Directed by Joe Dowling. Call 612.377.2224, or check the website for more information.

Death of a Salesman

1 May-7 June by Loft Ensemble, 929 East Second Street, #105, Los Angeles, CA. Call 213.680.0392 or check the website.


All My Sons

17 April-10 May by WaterTower Theatre, 15650 Addison Road, Addison, Texas. Directed by David Denson with Terry Martin, Diana Sheehan, Christopher Cassarino, and Tabitha Ray. Call 972.450.6230, or check the website.

Death of a Salesman

24 April-16 May by Strollers Theatre Ltd. at Bartell Theatre, 113 East Mifflin Street, Madison, WI. Call (608) 661-9696 or check the website.

The American Clock

15 April-17 May by Redtwist, Bryn Mawr, Chicago, IL. Directed by Jan Ellen Graves, with Brian Parry, Aaron Kirby, Johnny Garcia, Debra Rodkin, Michael Sherwin, and Elizabeth Argus. (Revival of their 2005 production). Call 773 728 7529 or check the website.


All My Sons

17 April-9 May by Pentacle Theatre, 145 Liberty St. NE, Salem, OR. Directed by Jeff Sanders. Call 503-485-4300, or check the website.


Death of a Salesman

10-18 April by Neuse Little Theatre, 104 South Front Street, Smithfield, NC. Directed by: Randy Jordan. Call (919) 934-1873 or check the website.


The Crucible

10-19 April by Merced Playhouse, 452 W. Main Street, Merced, CA. Call 209 725 8587 or check the website.

Death of a Salesman

16-26 April by Jewish Theatre Grand Rapids, 2727 Michigan NE, Grand Rapids, MI. Call 616-234-3595, or check the website.

Death of a Salesman

28 March- 2 May by The Royal Shakespeare Company in Stratford-Upon-Avon. Directed by Gregory Doran with Antony Sher, Harriet Walter, and Alex Hassell. Call 0844 800 1110 or check the website.


All My Sons

27 March-19April 19 by Alley Theatre, 615 Texas Ave., at University of Houston, Houston, TX. Directed by Theresa Rebeck. Call 713.220.5700 or check the website.


The Archbishop's Ceiling

24 March–19 April by Arvada Center for the Arts and Humanities, in their Black Box theater, 6901 Wadsworth Blvd., Arvada, Colorado. Directed by Brett Aune, with Michael Morgan, William Hahn, Rodney Lizcano, and Heather Lacy. Set design by Brian Mallgrave. Call 720-898-7200 or check the website.


Death of a Salesman

1-26 April by San Jose Stage Company at The Stage. 490 South First Street, San Jose, CA, Call 408.283.7142 or check the website.
Death of a Salesman 17-25 April by Snowy Owl Theatre, at Icicle Creek Center for the Arts, 7409 Icicle Rd, Leavenworth, WA. Call (509) 548-6347 x47, or check the website.


Death of a Salesman

16-26 April, by Saint Joseph's University Theatre Company, in Bluett Theatre, Saint Joseph's University, 5600 City Ave., Philadelphia, PA. Call 610 660 1181 or check the website.

All My Sons

10-26 April by Attic Community Theatre, 2834 S. Fairview, Santa Ana, CA. Directed By Chris Marshall. Call 714-662-2525 or check the website.


The Crucible

22-25 April by Columbus State Community College, 550 E Spring St, Columbus, OH. Directed by Sonda Lewis. Call (614) 287-5353 or check the website.


The Crucible

8-18 April by CentreStage at Fitchburg State University, in Wallace Theatre for Performing Arts, 160 Pearl St, Fitchburg, MA. Directed by Richard McElvain. Call 978.665.3347 or check the website.

All My Sons

(in Cantonese, translation by Dominic Cheung) 27-29 March, presented by the Leisure and Cultural Services Department and produced by the Hong Kong Federation of Drama Societies at the Auditorium, Ko Shan Theatre New Wing, Ko Shan Road, Hung Hum, Hong Kong. Directed by Luther Fung, with Chung King-fai, Patra Au, Guthrie Yip, Lai Yuk-ching, Johnson Yu, Mary Lee, Barry Chan, Ruby Chu, Andy Tang and Ngai Chi-hang. Call 2111 5999 or visit www.urbtix.hk.

Death of a Salesman

12-28 March by Nashville Repertory Theatre at at Andrew Johnson Theater at Tennessee Performing Arts Center, 505 Deaderick St., Nashville, TN. Directed by René D. Copeland, with Chip Arnold, Rona Carter, Eric Pasto-Crosby and, Matt Garner. Set design by Gary Hoff. Call 615 782-6560 or check the

website

.

Death of a Salesman

13-28 March by Dover Little Theatre, 69 Elliott Street, Dover, NJ. Directed by Claire Bochenek, with Bob Scarpone, Kate Daly, Michael Reddin, and Michael Jay. Call 973-328-9202 or check the website.


All My Sons

13-28 March by New Century Players, 11022 SE 37th, Milwaukie, OR. Directed by Colin Murray, with Dorinda Toner, and Ron Palmblad. Call (503) 367-2620 or check the website.

Death of a Salesman

Spring (Dates TBA) by Dreamwell Theatre Company, 10 S. Gilbert St., Iowa City, IA. Call 319-423-9820, or check the website.

Death of a Salesman

13-22 March at San Joaquin Delta College, Alred H. Muller Studio Theatre, 5151 Pacific Ave, Stockton, CA. Directed by Harvey Jordan, who also plays Willy, alongside Jane Dominik as Linda. Call (209) 954-5110 or check the website.

The Price

31 Mar.-26 Apr. by Artists Repertory Theatre, 1516 SW Alder, Portland. Directed by Adriana Baer, with Linda Alper, Michael Mendelson, Michael Elich, and Joseph Costa. Set design by Jack O'Brien. Call 503.241.1278 or check the website. Join the cast and crew for a post-show discussion after the 2pm matinees on April 5, 12, 15, 19, 26. There will be an ASL-interpreted post-show discussion on April 25.


Playing For Time

12 March-4 April by The Crucible Theatre, 55 Norfolk Street, Sheffield, UK. Directed by Richard Beecham, with Kate Adams, Pascale Burgess, Imogen Daines, Christopher Staines, Amanda Hadingue, Melanie Heslop, Kate Lynn-Evans, Danny Scheinmann, and Siân Phillips. To mark the 70th anniversary of the liberation of Auschwitz and the centenary of the playwright's birth. Call 0114 249 6000 or check the website.

All My Sons

6-29 March by Cherry Creek Theatre, at the Shaver-Ramsey Carpet Gallery, 2414 East Third Avenue, Denver, CO. Directed by by Bernie Cardell with Ken Street, Darcy J. Kennedy, Kaitlyn Althoff, and Alex Handloff. Call (303) 800-6578 or check the website.

All My Sons

6-22 March by Germantown Community Theater, 3037 S Forest Hill-Irene Rd, Germantown, TN. Directed by John Maness. Call (901) 754-2680 or check the website.

All My Sons

6-22 March Curtain Call Inc., 1349 Newfield Avenue, Stamford, CT. Directed by John Atkin with Joseph Caputo, Greg Chrzczon, Robert Rosado, Alexandria Clapp, John Ponzini, Karen Pope, Katie Bookser, Robie Livingstone, James Avery and Christopher Beaurline. Set design is by Peter Barbieri Jr. Call (203) 461-6358 ext. 13. or check the wesbite.

All My Sons

2 March-26 April by Front Row Theatre Company, Harrison College House, University of Pennsylvania, PA. Directed by Alex Polyak. Message on Facebook or check the website.
A View from the Bridge 20 March-11 April by Schoolcraft College, 1751 Radcliff St, Garden City, MI. Directed by Jason Kallas, with Marks Philips, 
Ronya Mallad, Cinamon Cowper, Tom Posler, 
Jack Cowper, and Bridget Coletta as Mrs. Alfieri
. Call 734-462-4596 or check the website.


An Enemy of the People

25 Feb.-15 March by PlayMakers Repertory Company, Center for Dramatic Art, Chapel Hill, NC. Directed by Tom Quaintance, with Michael Bryan French, Tony Newfield, David Adamson, Benjamin Curns, Julia Gibson, Allison Altman, and Jeffrey Blair Cornell. Set design by McKay Coble. Call 919.962.7529 or check the

website

.

The Crucible

1 March-4 April by Shawnee Playhouse, 552 River Rd, Shawnee on Deleware, PA. Call (570) 421-5093 or check the website.

All My Sons

12 Feb.-25 April by Talawa Theatre Company, around the UK, is reviving its all-black 2013 production (co-produced with Manchester's Royal Exchange Theatre) for a national tour, with beginning performances at Ipswich's New Wolsey Theatre for 12-21st Feb. Call 01473 295 900. It will subsequently tour to Cambridge Arts Theatre (24-28 Feb. Call 01223 503 333), Salisbury Playhouse (3-7 March. Call 01722 320 333), Watford Palace Theatre (10-14 March. Call 01923 225 671), Oxford Playhouse (17-21 March. Call 01865 305 305), Birmingham Rep (24-28 March. Call 0121 236 4455), Richmond Theatre in South West London (31 March-5 April. Call 0844 871 7615), Colchester Mercury Theatre (14-18 April. Call 01206 573 948), and Malvern Theatres (Festival Theatre) (21-25 April. Call 01684 892 277). Directed by Michael Buffong, with Ray Shell, Doña Croll, Kemi Bo-Jacobs, Leemore Marrett Jr., and Ashley Gerlach. Stage design by Ellen Cairns. For further details and to book tickets, visit their website.

The Crucible

26-29 March, by Studio 1, in Sarah MacMillan Brown Theatre, 1332 Plaza Dive, Burlington, NC. Directed by Ashley Phipps. E-mail or or check the website.


The Price

11 Feb.-22 March by Center Theatre Group at Mark Taper Forum, Music Center, 135 North Grand Ave., Los Angeles, CA. Directed by Garry Hynes, with Kate Burton, John Bedford Lloyd, Sam Robards, and Alan Mandell. Call 213 628 2772 or check the website.

An Enemy of the People

20-21 March by CU Theater at Cornerstone University, Matthews Auditorium, Grand Rapids Theological Seminary, 3000 Leonard NE, Grand Rapids, MI. Directed by, with Elijah Anderson, Matt Praschan, Caleb Joyce, Meredith Sweet, Joshua Panaggio, and Audrey Wierenga. E-mail or check the website.


The Crucible

5-8 March by ARTS at Midland University in Kimmel Theatre, Midland University, Fremont, NE. Call 402-941-6399 or check the website.


A View from the Bridge

11 Feb.-11 April (transfer of the Young Vic's much praised spring 2014 production), Wyndham's Theatre, Charing Cross Road, London, UK. Directed by Ivo van Hove, with Mark Strong, Nicola Walker, Michael Gould, Emun Elliott, Phoebe Fox, and Luke Norris. Design and Light by Jan Versweyveld. Call 020 7922 2922 or 0844 482 5120, or check the website (which has an interesting 55 sec. trailer that will give you a sense of the production's design).

FILM INFORMATION (21st century developments):

From Thursday 26th March 2015 at 7pm, cinema audiences will have the chance to watch Mark Strong lead the cast in Ivo Van Hove's five-star Young Vic production of Arthur Miller's A View from the Bridge broadcast from the Wyndham's Theatre in London's West End as part of National Theatre Live. The National Theatre's innovative project, NT Live, broadcasts some of the best of theatre live from the stage to cinemas across the UK and around the world. More than 1500 screenings are to take place in over 40 countries with additional encore screenings to be announced. Details of all screenings can be found at http://ntlive.nationaltheatre.org.uk/
Lifetime is producing a four-hour miniseries based on J. Randy Taraborrelli's book, Marilyn Monroe: The Untold Story. No word yet on who will play Miller.
Captured live in High Definition by DigitalTheatre.com at The Old Vic, London during its 2014 season directed by Yael Farber, with Richard Armitage, The Crucible is to be screened in 350 cinemas in the U.K. and Ireland Dec. 4 and 7 only, with further worldwide screenings to follow. US venues yet to be announced, but keep checking at Cinemalive.


Playing for Time

is released now on Blu-ray; it includes a booklet included with a new essay from film scholar Teri Ginsberg. Check out this review.

23 Oct. 2013, The Museum of Modern Art (MoMA) will be screening the East Coast premier of Stanley Kramer's newly restored 1951 film version of

Death of a Salesman

as part of To Save and Project: The 11th MoMA International Festival of Film Preservation at The Museum of Modern Art, 11 West 53rd Street (between 5th and 6th Avenues), New York, NY. Call 212-708-9400 or check the website. The World Premiere screening of was presented by the UCLA Film & Television Archive in the Billy Wilder Theater on August 9, 2013 as part of film series entitled, "Champion: The Stanley Kramer Centennial," honoring the late legendary filmmaker.

MGM has released

The Misfits

in Blu-Ray--a rare occurence for a black and white movie, however, the disc sadly contains little additional material.

All My Sons

with David Suchet and Zoe Wanamaker, is available from Digital Theatre as a downloadable production (or to stream) for £6.99 at their website,

Playing for Time

was finally released on DVD on 7th Sept. 2010. Check here for details.

An update on Anthony La Paglia's

A View From The Bridge

. The option rights to this will soon be expiring and La Paglia seems ready to give up on his plans to film his performance as Eddie Carbone, although his production team have not completely given up hope that the rights may be extended.

A film version of The Ride Down Mt. Morgan, directed by Nicole Kassell, starring Michael Douglas--though completed, has no plans for release.

A film version of The Man Who Had All the Luck, directed by Scott Ellis with screenplay by Rebecca Miller, has also been shelved.

Rebecca Miller's

The Private Lives of Pippa Lee

, about a woman in Connecticut heading for a nervous breakdown after her husband leaves her for a younger woman opened in 2009--several reports on its autobiographical aspects, with the Alan Arkin character (older man with three marriages under his belt) being somewhat based on Arthur Miller.

Charlie Kaufman's 2009 movie,

Synecdoche, New York

, contained as one of its central conceits, a production of

Death of a Salesman

, performed with a deliberately young cast.

The Sorcerer's Apprentice

(2010) with Nicholas Cage, features as a character, an evil witch named Abigail Williams, shown in Puritan dress.

The 2001 movie, Plain Jane, based on Miller's novella

Homely Girl, A Life

was released in Europe in 2001 under the title

Eden

,

but is not available in the US--the screenplay was not Miller's and there have been many changes. Reviews were poor--so a US release is unlikely.
Special Events/News/Releases for 2015-2016 (Link to Archive for past years)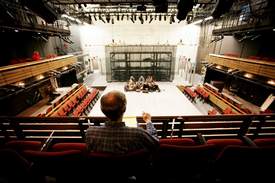 I
nside the Arthur Miller Theater at the University of Michigan
Marilyn Forever (by Gavin Bryars ) 21-29 March, American premier by Long Beach Opera, Warner Grand Theatre, 478 West Sixth Street, San Pedro, CA. Directed by Andreas Mitisek. The opera (with jazz interludes) focuses on Monroe's relationships and marriages, particularly with Arthur Miller, and her death. Call 562 432-5934 or check the website.

Cité des Arts is partnering with the Lauren-Reilly Eliot Company, Acting Unlimited (AUI), Wanderlust Theatre Co., the Cane Fire Film Series and others to produce the Arthur Miller Festival Series. The Lauren-Reilly Eliot Company opens the Festival at Cite Des Arts with their production of Death of a Salesman from January 17, 2015 to February 1, 2015. In May, Cité des Arts, will produce a View from the Bridge (from May 8, 2015 to May 17, 2015 at Cite Des Arts), and Acting Unlimited will contribute The Crucible (at Theatre 810 from May 22, 2015 to May 30, 2015). In June, American history professor, Dr. Nina McCune will conduct a seminar on HUAC and the Hollywood Blacklist at Cité; and in July, the Cane Fire Film Series will screen Miller's The Misfits. Wanderlust Theatre Co. closes the year long collaboration and celebration in December with All My Sons at Cité des Arts. The Festival continues to reach out to area theatre companies and other producing entities for participation, so watch for future announcements regarding further productions and programs throughout the year.
Arthur Miller - A Life April 16-19 2015. An L.A. Theatre Works Original Docudrama celebrating Miller's 2015 centennial, this world premiere docudrama reveals the events in Arthur Miller's life that shaped some of the most iconic plays in modern history. Get a glimpse into Miller's Depression-era adolescence (with Edward Asner as Miller's father); journey into the McCarthy era and Miller's complicated relationships with director Elia Kazan (Hector Elizondo) and Marilyn Monroe; and, later, his marriage to Inge Morath (Jane Kaczmarek). Arthur Miller – A Life sheds rich and lasting light on the life and art of this profound man. Directed by renowned BBC radio drama producer Kate McAll.

Calling all those interested in joining the Edward Albee Society, a newly formed nonprofit and an international organization whose members will join in the exploration of Albee's life and works by means of historical and critical writing, artistic performances on stage, film, television, radio and recordings, by the amassing of historical documentation, and by publications and conference presentations devoted to Albee and his plays. The subjects of study shall include not only Albee and his works, but all aspects of the American and World Theatre he has affected by his own work in theatre as a playwright, director and producer. Furthermore the Albee Society will support efforts that affirm the notion of drama as literature, and encourage projects that support new dramatic work by new playwrights, as an extension of Edward Albee's own Playwrights Unit, which he founded in 1963 with his producing partners Richard Barr and Clinton Wilder. Annual membership dues are $30. (Dues and donations are tax deductible to the extent provided by law.) Your dues and donations will help us pay for our 501C3 application fee, designing and registering our website, and our online journal, The Albee Review, as well as other organizational costs. Members receive access to the annual

Albee Review

, which will include photos, interviews, reviews, and insightful and provocative articles about Albee's life and works. Members who provide us with their e-mail address will be kept up to date on Albee-related publications, performances, and events around the country. Please fill out the membership form and send it, along with a check made out to "The Edward Albee Society," to Dr. David A. Crespy, Department of Theatre, University of Missouri, 129 Fine Arts Building, Columbia, MO 65211.
Recent Books on Miller (2011--current) Archive 2005-2010


Kevin Riordan, "Salesman in Abu Dhabi: The Geopathology of Objects."

Modern Drama

57.3 (2014): 409-32. Interesting article that analyzes a production of

Salesman

in which certain characters are replaced by inanimate objects, such as Charlie by a rolling refrigerator door; The Woman, a table fan; and Happy a black punching bag on a movable frame!

Richard D. Meyer.

Making the Fall

. CreateSpace Independent Publishing Platform, 2013. With the permission of Kazan, Meyer spent a sabbatical recording what went on during the first year of the Lincoln Repertory Theater. Included are verbatim conversations between Miller, Kazan, and the cast of their first production:

After the Fall

. The book also includes never-before-published excerpts from Kazan's personal notes and letters.


Intertextuality in American Drama: Critical Essays on Eugene O'Neill, Susan Glaspell, Thonton Wilder, Arthur Miller and Other Playwrights

. Eds. Drew Eisenhauer and Brenda Murphy. North Carolina and London: MacFarland, 2013. Contains two new essays on Miller.

A Student Handbook to the Plays of Arthur Miller:

All My Sons, Death of a Salesman, The Crucible, A View from the Bridge, Broken Glass

. Ed. Enoch Brater. London: Methuen, Nov. 2013 This contains notes created for the title plays by an assortment of leading Miller scholars, but not the plays themselves.

Timebends: A Life

. Miller's wonderful 1978 autobiography was reissued by Grove Press in 2013 as both a paperback and in a Kindle edition.